This reminds me of an experience I had while out walking at twilight to the local grocery store. It was a pleasant warm evening, with the light fading fast. I had a head lamp lit so I could see my way.
I am accustomed to the occasional glint of light from the ground, from some crystal face oriented just right. But as I walked along, I saw a pair of greenish glints that rapidly flashed at me as I walked past. Curious, I moved closer, and saw that it was two spiders. Their compound eyes had given multiple green reflections as I moved by.
As I continued my walk, I spotted many more. The spiders seemed to be mostly of a single species, not large (the biggest had a leg span of perhaps an inch), brown striped, and clearly some kind of hunting spider. Of course, I was also a crepuscular hunter in search of prey, though my prey was an unwary gallon of milk with which to make my breakfast. Still.

The spiders were beautiful. It was the kind of magic moment I wish my wife or children had been along for.
Beyond the shadow of the ship,
I watched the water-snakes:
They moved in tracks of shining white
And when they reared, the elfish light
Fell off in hoary flakes.

Within the shadow of the ship
I watched their rich attire:
Blue, glossy green, and velvet black,
Then coiled and swam; and every track
Was a flash of golden fire.

O happy living things! no tongue
Their beauty might declare:
A spring of love gushed from my heart,
And I blessed them unaware:
Sure my kind saint took pity on me,
And I blessed them unaware.

The self-same moment I could pray;
And from my neck so free
The Albatross fell off, and sank
Like lead into the sea.

— Samuel Taylor Coleridge, Rime of the Ancient Mariner

Fire
A significant agent of erosion in the Southwest is wildfire.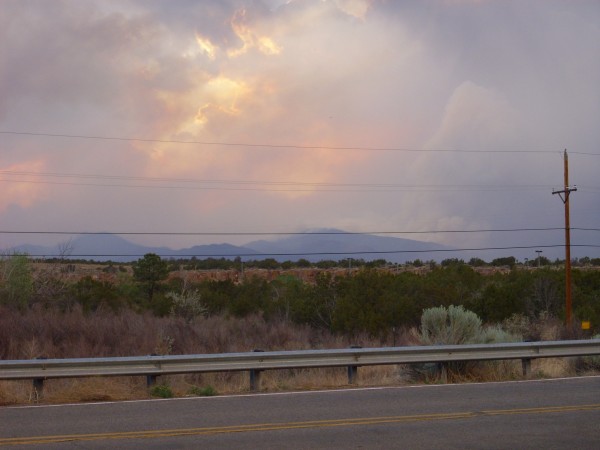 Las Conchas fire of 2011. Looking northwest from near 35 49.342N 106 13.467W
Under natural conditions, the Jemez Mountains are subject to frequent, but usually low-intensity, wildfires. Geologists have taken borings from older trees and stumps in the Jemez and matched burn scars with tree rings to find the dates of major fires. It appears that, prior to about 1890, widespread fires took place every five to fifteen years. These were mostly surface fires, which burned off grass, shrubs, and tree seedlings but rarely destroyed more mature trees. The frequency of fires dropped precipitously in the final years of the 19th century, probably due to livestock grazing that removed grassy fuels.
Human efforts since 1900 to reduce the occurrence of fires have likely had the perverse effect of making fires less frequent, but more destructive. Without the frequent burning out of ground debris and younger trees, fuel builds up until devastating crown fires destroy the forest ecosystem. The trend towards a warmer and drier climate accentuates the hazard of wildfire. Recent destructive fires near the Pajarito Plateau include the La Mesa fire of 1977 (15,444 acres), the 1996 Dome fire (16,516 acres), the 1998 Oso Complex fire (5,185 acres), the 2000 Cerro Grande fire (48,000 acres), and the 2011 Las Conchas fire (150,000 acres).

But even before the arrival of humans in New Mexico, wildfires contributed significantly to erosion. The more intense fires are capable of speeding the weathering of some kinds of rock.
Fire-scorched boulder on Las Conchas. 35 47.838N 106 31.687W

This boulder is in an area that was burned over by the 2011 Las Conchas fire, a particularly hot and destructive fire, and the rock show a thin layer of soot. There is also some indication of exfoliation, the shedding of an outer layer of rock, from the heat of the fire. It seems likely that this is a significant cause of weathering over geological time scales in an area where natural wildfires are a regular occurrence.
Fire also increases erosion by stripping the ground of vegetative cover. This allows raindrops to hit bare soil and rainfall to run downhill without the moderating influence of vegetation. This in turn leads to flash floods, in which a summer monsoon thunderstorm dropping heavy rain in a brief period can produce sudden and violent flooding of channels further down the watershed. These can cause spectacular erosion in geologically insignificant intervals of time.

Colluvium
Weathering is followed by erosion, in which weathering products are moved to new locations.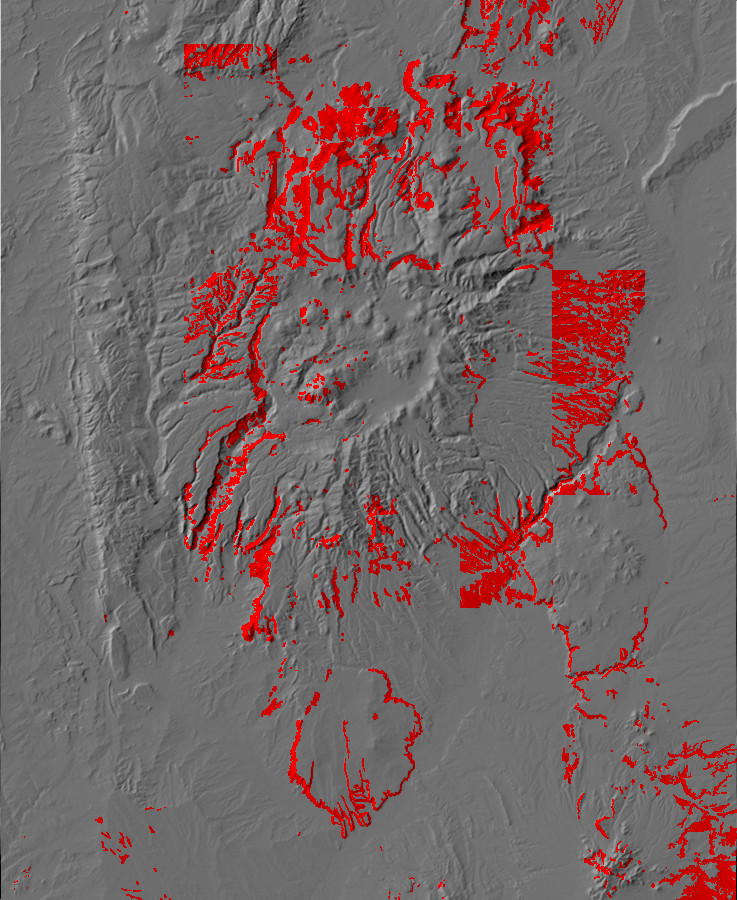 Relief map of the Jemez with colluvium deposits highlighted in red

The earliest stage of transport of eroded rock in mountainous areas is the formation of colluvium at the base of cliffs. In the Jemez area, this is particularly obvious around mesas of the Tsherige Member, Bandelier Tuff, which typically are surrounded by talus slopes cut into the underlying Otowi Member that are covered with clasts of Tsherige Member.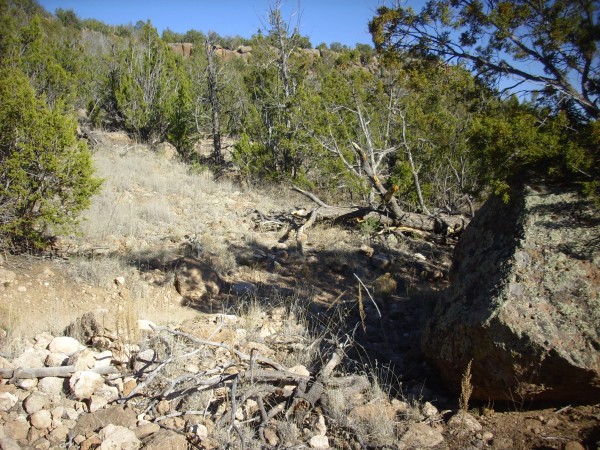 Colluvium at the base of a mesa of Tsherige Member, Bandelier Tuff. 35.801N 106.224W
Scree at base of Tsankawi Mesa. 35 48.055N 106 13.433W

Colluvium is unconsolidated fragments of rock and soil that accumulate at the base of a slope from relatively gentle processes, such as rainwater flowing over the surface. Colluvium does not include landslide deposits, which are not a gentle process, nor alluvial fans produced by the concentrated action of water. Colluvium is sometimes distinguished from scree, which is rock shards that have accumulated at the base of a cliff from which they obviously broken off, but most geologic maps of the Jemez area have generally mapped it all as colluvium.

The Otowi Member is often difficult to distinguish from a colluvium-mantled talus slope at a distance, since it is usually present only under cliffs of more durable Tshirege Member and it tends to weather to a gentle slope. For example, as one hikes down the trail on the south side of Pueblo Canyon onto the talus slope, one sees that it is indeed deeply mantled with soil.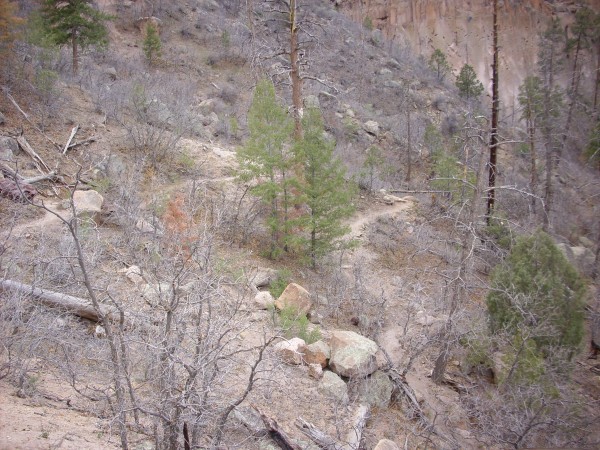 Colluvium on south wall of Pueblo Canyon. 35 52.890N 106 15.945W
Further complicating the picture is the fact that, because colluvium is composed of weathered fragments of nearby rocks, the two can sometimes be hard to tell apart.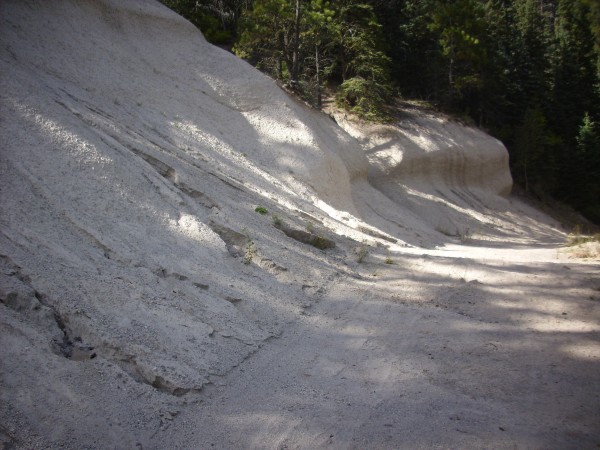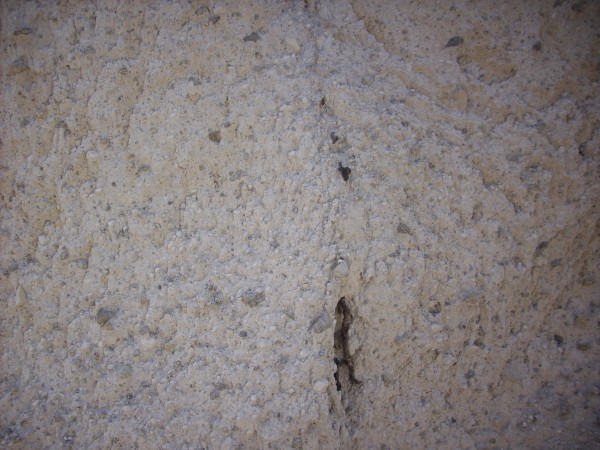 Colluvium formed from Otowi Member in San Antonio Canyon. 35 56.572N 106 38.791W

The colluvium here looks like a tuff, but it's very poorly consolidated. The geologic map maps this area as colluvium, but shows a bank of Otowi Member just up the hill. So this is reworked tuff, formed from sediments eroded off the original tuff bed. It is the historical use of tuff to refer both to primary pyroclastic deposits and to reworked volcanic ash that led to adoption of the term ignimbrite to describe primary pyroclastic deposits. However, the International Union of Geological Sciences discourages the continued use of this term, preferring the term ash flow tuff for primary pyroclastic deposts composed mostly of ash.

Some of the most ambiguous beds are found in the area north of Los Alamos, where beds mapped as Cerro Toledo sediments in the Guaje Mountain quadrangle are mapped as colluvium in the adjoining Puye quadrangle. This accounts for the "boundary fault" in the map of colluvium deposts east of Los Alamos. The New Mexico Bureau of Geology & Mineral Resources at Socorro is presently making a major effort to produce a set of quadrangle maps for the entire Jemez region that are consistent across map boundaries.